"Compounding is the eighth wonder of the world and one who understands it, earns it and one who doesn't, pays it."

Albert Einstein
When I asked one of my friends If given a choice between taking one crore rupees or 1 rupee that doubles every day or the next 30 days, which would you choose? Those of you who haven't heard about this might decide to take 1 crore today, many would choose instant gratification which is a normal emotional reaction that any human would have, and the same was with my friend he chose one crore. When I showed him the math of what happens to 1 rupee over 30 days, he was astonished.
The value will be little higher than Rupees Fifty Three crores Sixty Eight Lacs
This is compounding for you: When an investment earns a return, and this return, in turn, earns return over a period of time leads to compounding of your money.
There is another similar story, wherein there once was a king who held the chess tournament and asked the winner what he wanted as a prize. The participant asked the king to put one rice grain on the first square of a chessboard and then double it on the next one and so on and when they reached the 64th square the king was flabbergasted as the number was more than 18000 trillion and the king simply couldn't afford the prize. This is how the magic of compounding works.
Compounding in Investment
Suppose you invested rupees 10000 in a deposit that earns 10% every year. So at the end of the first year, you would earn an interest of Rs1000 that is 10% on 10000, and your investment value would be 11000. At the end of the second year, you would not only earn interest on your principal but also on your interest, so in addition to 1000(interest on principal), you would also earn 100(interest on interest). So the total value on investment at the end of the second year would be 10000(Principal amount) + 1000(First year's interest)+ 1000( Second year's interest) + 100( Interest on first year's interest) = 12100. So you keep on earning interest on principal and interest on interest for the next ten years.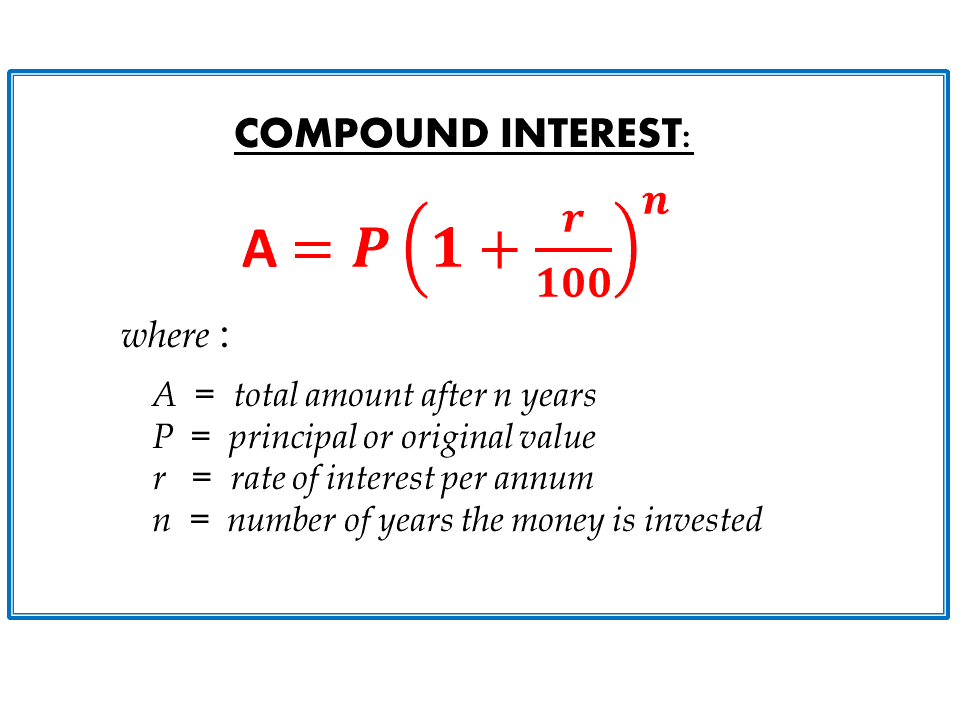 Putting the values in this formula as P=10000 R=10 and N=10, you can quickly get value at the end of ten years, which will be 25937.
You might have seen a snowball which is falling of hill and grows bigger as each turn it makes, as every second passes it gets bigger. Greater the distance higher will be the time taken, and thus more giant will be the snowball. Compounding also works in this way; the more time you are invested, the greater will be your wealth.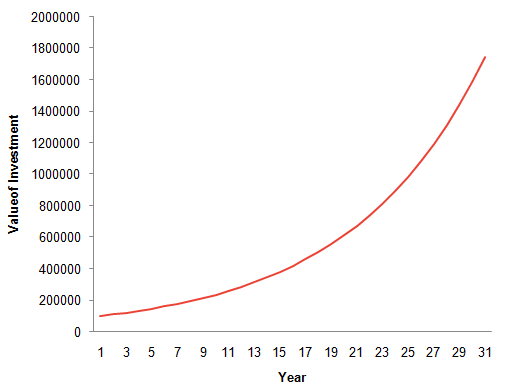 In the give above example, you can see that what happens to one lakh when invested for 30 years. At the end of 5 years, your investment is 1.6 times at the end of 10 years; it is 2.6 times, and at the end of 30 years, it is 17 times, which shows exponential growth in investment over a period of time. In my opinion, a decent amount of savings, patience, and knowledge of investment, a person can create a decent amount of wealth.
Warren Buffet and Compounding
Warren Buffet is a well-known name in the investing world, he started his investment journey at an early age and has stayed in the journey for more than 50 years, he has quite patient with his investment, giving them time to compound. In the above-given data, you can see that he made his majority of the fortune in the last 20-25 years. Compounding is the multiplying effect that, if used positively, can hugely benefit a person.
Compounding in Life
Compounding works out of finance as well; a person making small positive changes in his lifestyle might end up better than his friends or colleagues. James Clear, in his book Atomic Habits, has written, "Habits are the compound interest of self-improvement. The same way that money multiplies through compound interest, the effects of your habits multiply as you repeat them. They seem to make little difference on any given day, and yet the impact they deliver over the months and years can be enormous. It is only when looking back two, five, or perhaps ten years later that the value of good habits and the cost of bad ones becomes strikingly apparent."
In initial phases of self-improvement like reading books saving a fraction of money earned, going out for a run, eating healthy many of us might not see any changes immediately and end up living in the moment.
James clear writes – "But when we repeat 1 percent errors, day after day, by replicating poor decisions, duplicating tiny mistakes, and rationalizing little excuses, our small choices compound into toxic results."