In recent times we all have seen the shift from Facebook to other social media platforms. Now almost everyone we see or meet is on Instagram, Facebook, and Snapchat. From Millennials to Gen Z to the older age groups; the focus has now shifted from traditional media towards social media. But the most important fact is the influencer and promotional marketing that has taken a toll over the years on these apps.
Brendan Robinson, who was an actor in the US TV drama Pretty Little Liars, discovered a few years ago that posting a photo of himself on Instagram with the former Co-stars would get so many likes and comments from the nostalgic fans. He then decided to profit from his online popularity; the 29-year-old has since then become a fully-fledged Instagram influencer, with more than 800,000 followers. Over the past 18-20 months, brands from Fashion to ice cream have paid him several thousand dollars per post, to promote their products. Despite his success, he agonizes over the future viability of his chosen career.
After volatile growth, the $8 Billion influencer marketing business for the first time is showing signs of strain. Brands are starting to question the returns that these influencers generate. Because of it's "get rich quick" appeal, people are using it to commit frauds like inflating the followers' count, shout-out scams and more. Instagram's recent decision to hide the number of likes created havoc and a sense of tension among these influencers as it will become difficult for them to show their worth to the advertisers. Some say this is a normal growing pain as the market matures; But, some fear that the era of Influencing is coming to an end.
What does the Data say?
According to a report by InfluencerDB, engagement rates- the number of likes on posts as a percentage of the follower count have dipped over the last year. According to a report from marketing firm IZEA, the average cost of placing a sponsored ad on Instagram has grown from $134 in 2014 to $1650 in 2019. For big celebrities, the figures run into hundreds of thousands of dollars. The marketplace has become over-saturated with an increase in the number of influencers every day. Meanwhile, it is very necessary for the influencers to be more cautious and disclose their relationship with brands conspicuously.
With an increase in the number of influencers in the market, they are facing stiff competition, as it is up to brands to chose who they want to work with. Influencers have completely crumbled public trust by putting up one after the other products, and consumers are bored seeing so many products. We see influencers using one makeup product of a particular brand today, and the next day we see the same product by the different brand being promoted by them.
Instagram said that its decision over hiding likes globally is mainly to eradicate the mental health effects of competitive popularity.
Are "Likes" a good way to gauge how good the content is? I would rather say No. I might like a particular celebrity and end up liking his/her picture without seeing what brand is being promoted there and it could be vice-versa I might end up loving what my favorite celebrity is wearing and might get aware of the brand or even end up buying. So likes are not the only criteria to determine an influencer's credibility amongst followers.
Instagram's recent shift to encourage more direct E-commerce through it, is likely to provide a new source of revenue for influencers. But it may also see Instagram asking a more significant share of their earnings. One argument is also that Instagram has changed its algorithm over time to reduce the number of 'organic reach' of users so that brands are forced to pay and block formal ad slots. Market watchers say that Facebook started this trend of reducing the organic reach and casted it as a shift to surface more relevant content to users from friends and family.
Spending on Influencers is expected to peak in 2020 at up to $10 Billion.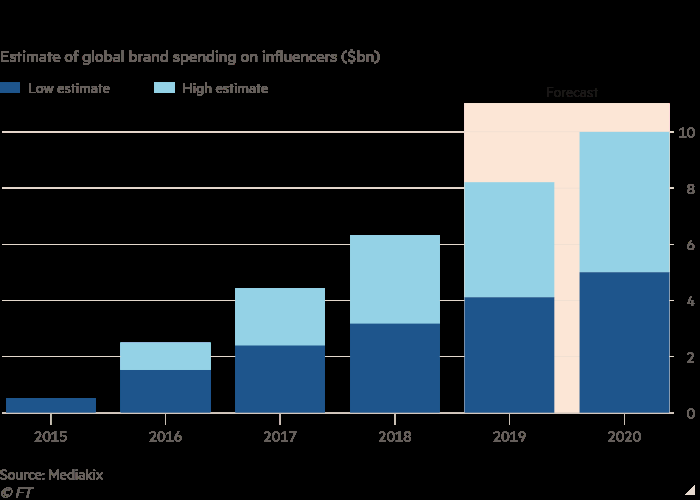 People also suggest that Instagram's hiding likes move could be a part of encouraging greater ad spends by brands, by poking them to place ads on Instagram's Stories feature rather than as a post in their feed. Others also question whether Instagram might just shut access to influencers' metrics and analytics and start to charge for them. It's a matter of concern if only Instagram and Facebook oversee all the information, given Facebook's history with data and privacy.
According to a report by Financial Times, Instagram's move of 'hiding likes' was a source to earn money from brands and to reduce organic reach. They also claim that they are exploring ways in which Professional accounts would be able to share their metrics and analytics with brands. In June 2019, it launched a new tool,' branded content ads', which allows brands to promote Influencers post as an advertisement. In December it also announced plans to launch another platform to match brands and influencers.
What's more in the store for Influencers?
With all this going on, advisers are asking Influencers to generate followers on multiple platforms to generate more profit; one such trending platform is Tik-Tok, a Chinese company that is growing rapidly. All the brands, big or small, are entering the space at full speed, and one must keep on innovating in order to sustain. If you build only on one platform, you are only one service away from losing and being irrelevant.