On March 28, the government had set up the 'Prime Minister's Citizen Assistance and Relief in Emergency Situations Fund' (PM CARES Fund) to deal with the unprecedented situation arising out of the COVID-19 outbreak where citizens could make voluntary contributions.
But since then, it has been a topic of discussion among taxpayers, philanthropists, intellectuals, and even those who neither paid taxes nor made donations. Some regard this as unconstitutional while some have pledged thousands of crores into it. Comparison of PM CARES with PMNRF (Prime Ministers National Relief Fund) is what lies in the core of the debate.
Well, in our country unless we don't have controversy in everything, we aren't satisfied. So let's analyze what PM CARES actually is and then make an informed choice.
How are PM-CARES and PMNRF similar?
Establishment: Both funds are recognized as a Trust under Income tax act, 1961
Contribution: Both funds consists entirely of public contributions and does not get any budgetary support
Benefits: Both funds are notified for 100% deduction from taxable income u/s 80(G) of Income Tax Act, 1961
Foreign contributions: Both these are also exempt from the Foreign Contribution (Regulation) Act, 2010, and accept foreign contributions.
Contributions up to 30/06/2020 in PM-CARES would be eligible to claim a deduction in the A.Y. 2020-21. 100% deduction means that your income will be reduced by the amount you donate to the fund and thereby benefiting the donator of lower slabs.
So where lies the difference?
Conditional contributions: PMNRF does not accept amount meant for a specific purpose by the donor, while PM-CARES is specifically for COVID-19
Establishment: PMNRF established by then Prime Minister Nehru in January 1948 to help displaced persons from Pakistan after India and Pakistan religion-based partition. While PM-CARES is established by Prime Minister Modi to fight COVID-19
CSR: PM-CARES falls under CSR category in Companies Act, 2013 while there is no such provision in PMNRF
Micro donations: PM-CARES allows minimum donation of even Rs. 10 while the same in PMNRF is Rs. 100
Members of fund: PM-CARES is chaired by Prime Minister and members include Defence Minister, Home Minister, and Finance minister. While the PMNRF is chaired by Prime minister and "assisted" by officers on an honorary basis.
Decision making: Under PMNRF, sole discretion to make decision lies with PM, while in PM-CARES it lies jointly with all of its members
What was the need for PM-CARES when we already had PMNRF
On 28th March 2020, when PM-CARES was set up, there was already a balance of Rs. 3800.44 Crores in PMNRF. But only 15% of it was liquid. Remaining was in the form of deposits and securities, liquidating which would have resulted in heavy penalties and time.
PMNRF had so many investments that interest income often exceeded donations. From 2009-10 to 2012-13, contributions received by PMNRF was a measly Rs 106 crore. During the same period, the income earned from interest from bank deposits was Rs 620 crore
The fund that was primarily meant to tackle emergency situations seemed like an investment vehicle instead of fulfilling its primary objective of keeping a war chest ready for situations like the one currently being faced by India. Still, there is no denying that it had not been useful in emergencies. But we needed something instantaneous to fight Covid-19.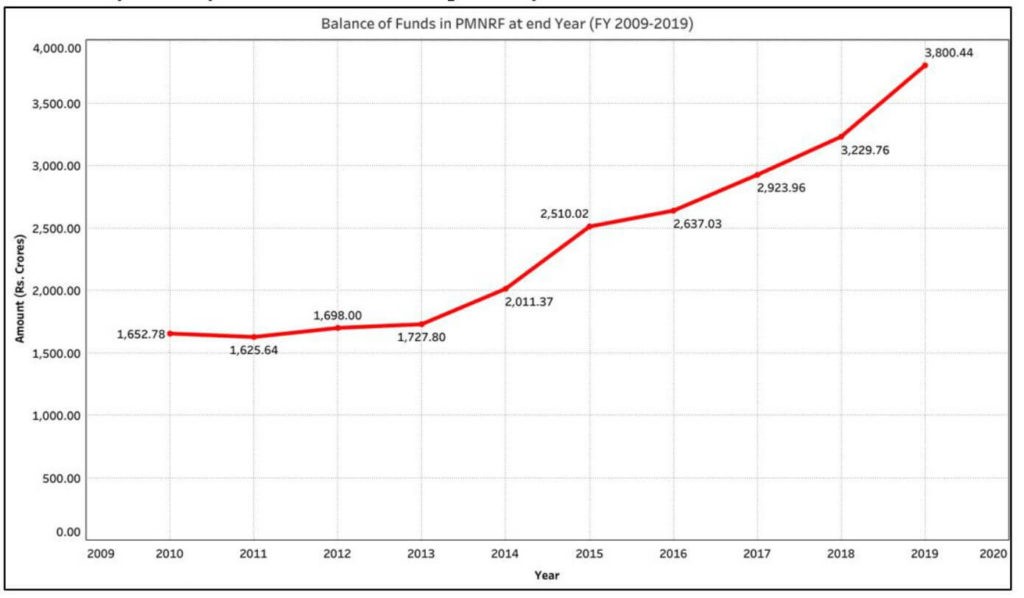 On 20th May 2020, at least Rs. 9,677.9 crores ($1.27 billion) have been collected in the PM-CARES, according to an analysis by IndiaSpend. Also, it has been receiving donations regularly since then.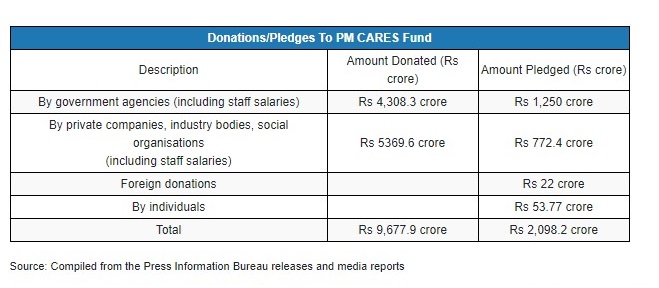 A few legal experts are of the opinion that attaching the fund to COVID-19 and allowing micro-donations has encouraged more people to come forward and donate. From a basic salaried person to an industrialist, we have seen everyone contributing to the fund
Arguments against PM-CARES
Argument 1: Transparency
"PM Cares Fund has Finance Minister, Defense Minister, Home Minister as members (trustees). PMNRF has Congress president and representatives of FICCI and Tata Trust as members. So the second is transparent and the first is opaque."
Since 1985, when Rajiv Gandhi was the PM, the management of the fund was entrusted entirely with the Prime Minister. Since then, the PM has had the sole discretion of appointing a secretary to manage the fund. No separate office or staff is allocated for managing PMNRF. Under PMNRF, the criterion for disbursement of money and selection of beneficiaries is purely at the 'discretion of the PM and in accordance with the PM's directions'
Modi's PM CARES now delegates the power of deliberation and decision making to three other ministers of the Government, who handle some of the most crucial portfolios. As chairman of the PM CARES trust, Modi still has the responsibility of sanctioning and approving his ministers' recommendations; but unlike PMNRF, he is not the proverbial 'judge, jury, and executioner.' By the looks of it, Modi seems to have diluted the powers of his own office over the crucial fund with the creation of PM CARES.
Argument 2: Audit of PM-CARES shall be done by C&AG
Information about funds donated to PM CARES or money spent from the fund is not widely available in public domain, and it is unclear if the fund will make its donations public. Since it does not take money from the Consolidated Fund of India, it does not need to be audited by the Comptroller and Auditor General of India.
Like PMNRF, it will be audited by an independent third party auditor. The Centre has not responded to queries on how much money is in the PM CARES Fund, or how and when it will be used to provide relief. A senior official told The Hindu that an announcement will be made "once a respectable amount of money" has been collected.
ICAI is an independent body. It has been set up by an act of Parliament. ICAI ensures strict standards for its members to follow to maintain the integrity of audits they do. If the citizens of the country will doubt the integrity of the third-party auditor then we will have to go around appointing C&AG for the audit of every public company as the funds involved there are much more.
Argument 3: CSR expenditure allowance
"The decision to allow uncapped corporate donations to the fund to count as CSR expenditure — a facility not provided to PMNRF or the CM's Relief Funds — goes against previous guidelines stating that CSR should not be used to fund government schemes. A government panel had previously advised against allowing CSR contributions to the PMNRF on the grounds that the double benefit of tax exemption would be a 'regressive incentive'."
Well, that seems a fair argument as individuals get the deduction once while corporates get it twice. But we all know how a government always favors corporates. Also, this may have been a driving factor for donations of huge amounts.
Argument 4: Mr Tharoor and the opposition (Coz if you don't do politics even when the world is dying, are you even a politician)
Opposition leaders too have been quick to condemn the move. Congress MP Shashi Tharoor used social media to express his disapproval. Tharoor said, "Why not simply rename PMNRF as PM-CARES, given the PM's penchant for catchy acronyms, instead of creating a separate public charitable trust whose rules and expenditure are totally opaque? PM Modi owes the country an explanation for this highly unusual step."
Well, we must say that Mr. Tharoor has does not have as good arguments as his vocabulary, because the charter for both is almost on similar lines. Also if catchy acronyms can mobilize huge funds, what's the harm?
Argument 5: Firing employees and donations
"Struggling companies also donate to PM CARES even while their employees are in need. For example Construction Company Larsen and Toubro contributed Rs 150 crores to PM CARES but hundreds of their workers protested in April 2020 over non-payment of their wages"
"Reliance Industries announced pay cuts in May 2020 but also donated Rs 500 crores to PM CARES"
"Cure Fit, a fitness start up, fired about 800 employees in May 2020 but also donated Rs 5 crores to PM CARES"
This doesn't imply that they have been cutting pockets of their employees. Both of the situations are different and should be judged independently. These companies are a part of what businesses generally go through. Donation to the pandemic fund cannot be linked to the firing of employees. However, companies should take some responsibility of their employees and should not leave them dry to suffer.
Some honourable mentions
Donations made specifically to PM-CARES
Delivery agents for gas cylinders, school teachers and
non-teaching staff in government schools
10 crores
Railways employees
151 crores
Companies part of FICCI
5123.50 crores
Tata Group
500 crores
The head and members of NITI Aayog and its members
30% salary cut for 1 year
Russia's State-owned defence exports company Rosoboronexport
2 million dollars (15.30 crore)
Employees of the Defence Ministry, Army, Navy, Air Force and
defense public sector units
500 crores
Akshay Kumar
25 crores
Shilpa Shetty
21 lakhs
Badshah
25 lakhs
Note : This is not an exhaustive list. It only implies donations from different sectors of the country.
We see everyone coming forward to donate to PM-CARES from delivery agents to Bollywood celebrities. That gave a sense of connecting the nation in my opinion
Azim Premji Foundation has committed Rs 1,000 crores to general COVID-19 relief work
Tata Group has also pledged to donate Rs 1,500 crores to COVID-19 work in general, of which Rs 500 crore is for PM-CARES
Other sources of funds for COVID-19 relief work
Besides PM CARES and the PMNRF, there are several other sources for money designated for COVID-19 work
Rs 7,800 crores that were available to members of parliament as part of the 'Members of Parliament Local Area Development Scheme' (MPLADS) has been taken over by the government as of April 6, 2020. The cabinet approved that MPLADS funds be made non-operational for two years, in order to "strengthen Government's efforts in managing the challenges and adverse impact of COVID19 in the country"
The salaries and allowances of parliamentarians have also been reduced by 30% for one year, amounting to Rs 55 crore, which is also supposed to be used to tackle the pandemic.
Other organizations have also made donations, not in cash but in kind. The Federation of Indian Chambers of Commerce & Industry (FICCI) spent Rs 3,009.6 crore on masks, cooked meals, dry ration, PPE, sanitizers, medical equipment and supplies, and medical facilities
Rashtriya Swayamsevak Sangh (RSS), which is the world's largest NGO is also working day night with its volunteers all across the nation in the relief work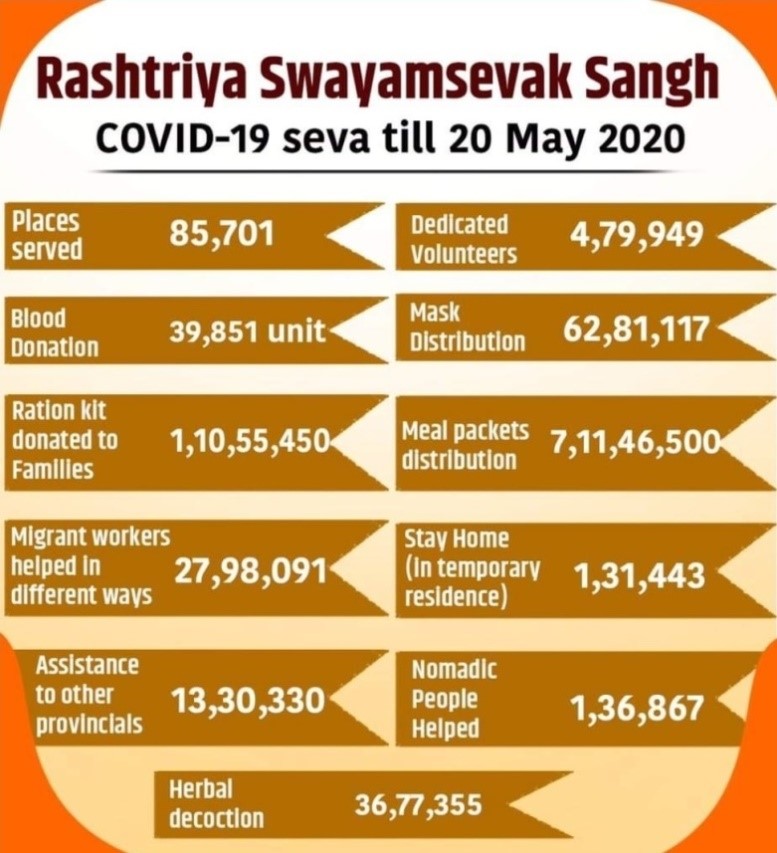 Many other NGOs, Temples and Gurudwaras are also working at local level in excess of their capacities from months to help ease situations by distributing food packets and serving meals, for which we couldn't collect official figures.
Conclusion
So can Modi's PM CARES turn a new chapter in preparing a stronger coffer for India to tackle black swan events like the Coronavirus pandemic or will it go the PMNRF way? Commitments for contributions look like they could well exceed PMNRF's existing corpus with a more democratic and constitutionally sound trust in place, expectations would be that PM CARES becomes a war chest that India can readily rely on in emergencies when the future of an entire country is at stake.
The question here is also that those who stand against PM-CARES never bothered to make donations even to PMNRF. The kid that is unwilling to study the most makes the loudest cry. Well to those, no offense. I think I have aptly answered some of the daunting questions. But you can still differ in opinions and have your own way.
So here's the link to both PMNRF and PM-CARES. Go ahead and help the nation
Let's not make it "Political". Let's stand together as nation and help ourselves
Subscribe to our Newsletters to get exciting content delivered to your Mailbox!
Do follow us on: