Laurus Labs is a Pharmaceutical Company that operates in majorly three divisions Generics API's; Generics Finished Dosage Formulation(FDF), and Synthesis/Ingredients with Globally Benchmarked Manufacturing Facilities. The company is one of the leading manufacturers of APIs for Antiretrovirals (ARVs), Oncology, Cardiovascular, Anti-Diabetics, Anti-Asthma and Other Therapeutic Segments. The company develops and manufactures oral solids formulations, provides Contract Research and Manufacturing Services (CRAMS) to global pharmaceutical companies. It also produces speciality ingredients for nutraceuticals, dietary supplements, and cosmeceuticals.
Manufacturing Facilities
Active Pharmacuetical Ingredient(API)
⦁ Laurus Labs Limited has a Strong Foothold in the API Segment, The business comprises the development, manufacture, and sale of APIs and advanced intermediates in the ARV, Hepatitis C, oncology, cardiovascular, anti-diabetic, anti-asthmatic therapeutic areas.
⦁ Anti-retroviral Segment contributes to the Majority of the API revenue, wherein the company has positioned itself as a leader in a few select APIs. ARV APIs are used in the treatment of HIV, and Hepatitis C. Company has built this division in the past decade and has a good customer base which includes pharma giants like Aurobindo and Mylan. In the Hep C segment company has an equal Profit Sharing partnership with Natco Pharma on formulation sales.
⦁ The demand for ARV APIs will see continued growth in the coming years owing to a steady increase of new HIV patients, a decline in the cost of treatment. However, the introduction of low-dosage DTG will lead to a decrease in volumes.
⦁ Laurus is present in all significant API's – (Efavirenz)EFV, Tenofovir DIsoproxil Fumarate(TDF), Emtricitabine(FTC), Dolutegravir(DLT), Lamivudine(3TC). All five molecules are part of the LMIC ARV tenders. Even though with the shift from EFV to DLT based regimen, Company has been gaining market share in EFV. Lower cost and patented processes have been the key factors in making Laurus the preferred API supplier in the ARV segment.
Increase in Revenue from Other API's
⦁ From an ARV API player, It has also developed a range of APIs and related intermediaries Under Other Therapeutic Segments, offering a diverse portfolio of quality products to its customers at an affordable cost. Laurus has reduced its dependence on its ARV API Business.
⦁ ARV and Hep C now account for 67 % of total API revenue whereas the rest comes from Oncology(12%) and Other API(21%) Compared to FY17 when ARV and Hep C used to account for 87% of the total API revenue.
Generic Finished Dosage Formulation(FDF)
Foraying into Formulations
⦁ In the past few years company has pivoted itself into the formulation business and leveraged its API Business into making low-cost Formulations for the treatment of HIV.
⦁ Lower and Middle-Income Countries account for two-thirds of the HIV patients, and the rest is accounted for by the developed nations. The Growth Driver of the Formulation Business is the company's partnership with the Global Fund, President's Emergency Plan For AIDS Relief(PEPFAR), and In-Country tenders. The company has a partnership with the Global Fund for 3.5 Years.
⦁ The Major Funding for HIV, TB Comes from the PEPFAR and Global Fund. The Company has filed 26 ANDAs with USFDA and 8 Final approvals and five tentative approvals, Also, completed 1 product validation Field 11 dossiers in Canada, 9 in Europe, 8 with WHO, 2 in South Africa, 2 in India & 12 products filed in various ROW markets.
Change in Preferred line of Treatment
⦁ The WHO recommended first-line for Anti-Retroviral(ARV) Treatment was Tenofovir Disoproxil Fumarate (TDF) + Lamivudine (3TC) or emtricitabine (FTC) + Efavirenz (EFV). TLE (TDF/3TC/EFV) and TEE (TDF/FTC/EFV) are fixed-dose combinations (FDC) recommended as the preferred option to initiate ART.
⦁ In July-18, the WHO revised its guideline and made Dolutegravir (DTG) part of the preferred first-line treatment option for all adults and adolescents.
⦁ Recently company got approval for two formulations Tenofovir/Lamivudine/Efavirenz – 400/400/400 (TLE400mg) and Tenofovir/Lamivudine/Efavirenz – 400/400/600 (TLE600mg, with only three approvals for TLE400.
⦁ With the approval of DTG in the last Financial Year Company is ready to cater to the Complete first line as well as second-line Treatment. The company also Initiated the Supply of TLD to Global Fund in the previous financial year.
⦁ The company has a capacity of five bn Units / Year of Oral Solid Formulations, which is expected to increase nine bn Units/ Year by December 2021.
Formulation In other Therapeutic Segments
⦁ With most of the formulation revenue coming from the ARV segment, Company has been diversifying its formulation revenue and incorporating different Therapeutic Segments like Anti-diabetic, CVS, CNS PPIs.
⦁ The company has Successfully Launched Metformin in the US Market wherein it has a Single Digit Market Share; Pregabalin with low teens Market Share and in the last financial year Company launched Hydroxychloroquine.
⦁ In the EU region company has few Contract Manufacturing opportunities under Non-ARV Formulations.
Custom Synthesis and Ingredients.
⦁ Synthesis Business includes Contract Development and Manufacturing Services (CDMO) and Contract Research Services(CRO) to global pharmaceutical companies. The Custom Synthesis Division is exclusively for the New Chemical Entity(NCE) Programs.
⦁ The company is working with four out of the top ten Big Pharma and Several Medium and Virtual Biotech Companies. The Total Number of Active Projects in the CDMO Division Stood at 47. The company has Started the Commercial Supplies for 4 Products. The Synthesis business continues to grow strongly on the back of increased traction in existing contracts and the addition of new customers. The company has a dedicated facility for Aspen (Unit 5) and commenced commercial supplies for hormonal intermediates from this unit in 2018-19.
⦁ The company has Incorporated Wholly Owned Subsidiary to give increased focus and eventually dedicated R&D and Manufacturing.
⦁ The ingredients business comprises the manufacture and sale of speciality ingredients for use in the nutraceutical and cosmeceutical sectors. Laurus Labs has been at the forefront in developing and manufacturing pure, well-characterized speciality ingredients in nutraceutical/dietary supplements and cosmeceutical product segments. The company has Setup a dedicated block in Unit 4 for global Partner C 2 Pharma and started Commercial supplies for digoxin and other products.
Global HIV Market
As of 2019, 38 million people were living with HIV globally in 2019 of which only 25.4 million people were accessing antiretroviral therapy. There was a total addition of 1.7 million people in 2019. Approximately 81% of People with HIV globally knew their HIV Status in 2019. The remaining 19 % (about 7.1 million people) still need access to HIV testing services. The majority of HIV infections are concentrated in the African region and other LMIC Countries.
Financial Performance Overview
The company has performed really well in the last six years, with sales growing at a CAGR of 16%, with improvement in product Mix Company's Gross Profit margin from 31% in 2014 to 42% in 2020. This was the result of the growth of new segments With greater margin than API, which includes formulations and Custom Synthesis.
⦁ In the last few years the Hep-C which revenue share as a % of total revenue has been under pressure with increased competition and semi-regulated market, this segment contributes less than 10% of revenue. It has decreased considerably in the past few years.
⦁ Change in HIV Treatment regimen has from Efavirenz to Dolutegravir was not smooth as expected, Slower offtake in DTG based Combination Lead to lower growth in FY 18 and FY 19.
⦁ In the last three years, Company has taken a significant step to fully backwards integrate itself, owing to a sudden increase in Intermediate Prices imported from China in FY 18 and FY 19. This has lowered its dependency from China Considerably in ARV and Select Oncology API.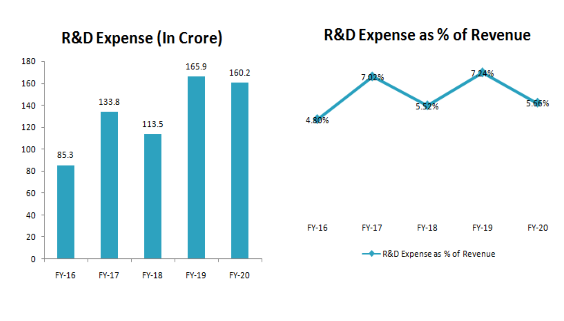 ⦁ The company has Strong R&D Capabilities which has helped companies to build Long term Relationships with the Client. With the team of 750+ Scientist and 50+ Phds, Company has guided to file 8-10 ANDAs per year.
⦁ Out of 1056.87 Crores of Debt, 326 Crores if Foreign Currency Variable rate loan with an average cost of debt at around 6.6%. The company has hedging policies in place for its foreign currency loan. Even though the debt has increased considerably since the FY14. The Debt to Equity ratio has lowered, from 1.93 to 0.6. In the recent con-call management has said that it would maintain this amount, and use cash flows for the Capex and Debottlenecking Projects.
⦁ Since the past 6 years company lowered its dependence on the ARV API segment, owing to which it has added new units for its Synthesis and Finished Dosage Formulation Segments. Simultaneously the company has done various debottlenecking projects in the past years to increase the company's efficiency. The company has guided 300 Crores of Capex for FY21 and an additional 61 Crores have been invested through its wholly-owned subsidiary Laurus Synthesis Pvt Ltd. The company is increasing its API Capacity by 20% and increasing its formulation capacity by 80%.
Management
Dr Satyanarayana Chava
Executive Director and Chief Executive Officer
Dr Chava is the Founder, Chief Executive Officer, and Executive Director of Laurus Labs. He holds a bachelor's and master's degree in Science from Andhra University and completed his PhD in 1992. With over three decades of experience in the pharmaceutical industry, he steers the Company's growth story, both in domestic and global markets. He has valuable experience in various domains of the industry, such as research and development, and API process development. His stints with top pharmaceutical companies let him gather experience in other aspects of the business, such as manufacturing and business development.
Mr V V Ravi Kumar
Executive Director and Chief Financial Officer
Mr Kumar is an Executive Director at Laurus Labs since 2006. He holds bachelor's and master's degrees in Commerce from Andhra University and is a fellow member of the Institute of Cost Accountants of India (formerly ICWAI). With nearly three decades of experience in finance, information technology, HR, and supply chain, he contributes significantly in formulating and executing core strategies for the Company.
Growth Drivers
In the past decades, Company has turned itself from ARV API manufacturers to providing diverse pharmaceutical products and services. It has forayed into the formulation with ARV as their major focus and Custom Synthesis Business, Expanding their API Portfolio into Other Therapeutic Segments. The company is likely to Enter into the diverse therapeutic segments into its formulation Division.
⦁ Offtake of TLE400 and TLE600 based Combinations in the next few quarters.
⦁ Increased traction and sales in DTG based Combinations
⦁ Increased Contract Manufacturing opportunities in Generic Finished Dosage Formulation.
⦁ Highest Number of Customer addition in the last two quarters in the synthesis business with 47 Active Projects. This trend is likely to continue and will be the major growth driver.
Outlook
The company has posted good Q1 numbers and this trend is likely to continue for the rest of the year as well. The company posted an EPS of 16. In the Below Given table, different EPS growth rates are assumed for the next 3 quarters and an EPS has been calculated for the year FY21. This is Just a Rough Estimate.
Source: Annual Reports, Conference Calls, Investor Presentation